2012-06-19 Live Blog: Assange requests political asylum from Ecuador
Submitted by m_ceteraon Tue, 06/19/2012 – 19:38
WikiLeaks announced this evening via Twitter (19:40 local time) that Julian Assange has requested political asylum at the Ecuadorian embassy in London.
This comes after the UK Supreme Court refused a submission to reopen his case on June 14. Julian Assange has spent 560 days under house arrest without charge. His extradition to Sweden is set between June 28 and July 7.
Mr Assange will remain at the embassy under the protection of the Ecuadorian government while they process his request.
In his statement to the Diplomatic Mission of Ecuador, Julian Assange commented on his abandonment by his home country, Australia, as well as the threat of the death penalty in the U.S.
Ecuador offered political asylum to Julian Assange in November 2010. At that time, Vice Chancellor Kintto Lucas stated, "We are open to grant him Ecuadorian residency, without any kind of problem or any kind of conditions." (President Rafeal Correa afterwards stated the offer was not official.)
Ecuadorian President Rafael Correa was a guest on Julian Assange's talk show "The World Tomorrow" this past May. The full interview is available online in English, Spanish, Italian, Russian, and Arabic.
Updates will be added as they become available.
[UPDATE: 21:25 BST] Julian Assange's U.S. based lawyer Michael Ratner commented on the request via Twitter:
Julian's asylum not about questioning in Sweden. Facing life in solitary in US with no comm.for exposing war crimes, What Would You Do???
Sweden easier. Smaller. lawyers in UK remarkable. More public support. He would be in jail in Sweden, US lodges warrant and he never is out
[UPDATE: 21:29 BST] Clark Stoeckley of the WikiLeaks Truck and Venezuelan author Eva Golinger will be on RT to discuss Julian Assange and his request for political asylum.
[UPDATE: 21:33 BST] Jesselyn Radack of the Government Accountability Project and Barrett Brown will also be on RT to discuss Mr Assange's request for political asylum.
Media currently outside Ecuadorian embassy waiting for Julian Assange (image via RT London).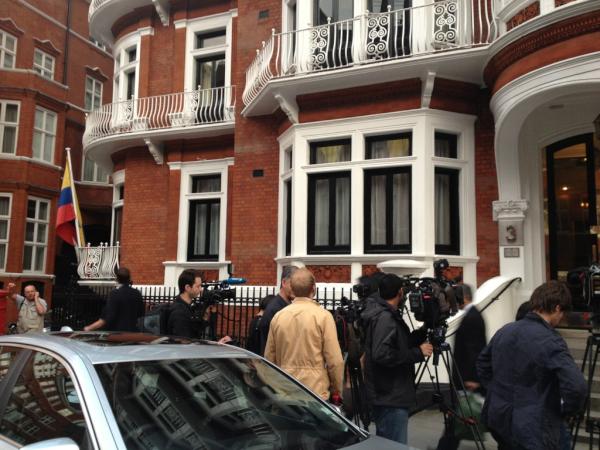 [UPDATE: 23:10 BST] Glenn Greenwald has written an article covering Julian Assange's decision to seek political asylum in Ecuador. Kevin Gosztola has also covered it.
Mr Assange's mother, Christine, has come out in support of his decision to seek asylum, saying it shows clear thinking, but also comments she had no prior notice.
SwedenvsAssange tweeted the following in support of his decision:
You can only request political asylum if you are free to walk into an Embassy. In Sweden Assange would not be able to exercise his right.
RT America has also reported on the news. Watch their coverage below:
—

[UPDATE: 00:30 BST] WikiLeaks has published an effective "declaration of abandonment" from the Australian Government, which refuses to protect Julian Assange or make any requests on his behalf.
[UPDATE: 01:55 BST] Australian Greens Senator Scott Ludlam was on ABC discussing Julian Assange's decision to seek asylum. He said Mr. Assange's concerns are well-founded after being labeled a terrorist by the U.S. Vice President and Stratfor emails revealing a sealed indictment against him. Watch the interview below.
—

Senator Ludlam also spoke in front of the Senate doors on the matter.
[UPDATE: 03:40 BST] Filmmaker Michael Moore put out a statement regarding Julian Assange's request for political asylum. Here is his statement in full:
BREAKING: The Ecuadorian embassy in London has just given sanctuary to WikiLeaks' Jullian Assange. He is asking them for political assylum (which they had offered him in the past). Well, thank you Ecuador! IMHO, there is no doubt that if the UK sends him to Sweden, Sweden will send him to the USA. Sweden says they "just want to talk to him" about the accusations leveled at him (he has still not been charged with any crime). If Swedish police want to question him, there is an SAS flight that leaves Stockholm at 7:55 tomorrow morning (flight #525) to London. I'm sure the British authorities would have no problem with the Swedish police questioning Mr. Assange. Then Sweden can decide if it wants to charge him with a crime. Any and all allegations of sexual abuse by anyone and to anyone MUST be treated very seriously, and Mr. Assange should cooperate with the inquiry. But it appears that Sweden has little interest in these charges – what they really want is the ability to extradite Assange to America. And that, simply, must not happen.
Many supporters have been writing to the Embassy of Ecuador in London to voice their support for Mr Assange. You can do so via an online form at their official website. An email address is listed, but all emails seem to be bouncing.
[UPDATE: 03:42 BST] Jacob Appelbaum has posted his letter to the Government of Ecuador, urging them to grant Julian Assange asylum.
The Alyona Show covered Mr Assange's request for asylum during its "Main Stream Miss" section. Watch the video below.
—

[UPDATE: 04:40 BST] Julian Assange (sometimes #Assange) has been trending on Twitter since the announcement nine hours ago. Ecuador and #WikiLeaks have also trended.
Australian citizens will be protesting at the Sydney DFAT against their Government's poor treatment of Mr Assange on June 21, 5PM.
As a reminder of the threat Mr Assange faces from the U.S., there is a list of political figures who have called for his assassination.
[UPDATE: 05:00 BST] Australian Prime Minister Julia Gillard commented on Julian Assange's decision to request political asylum. She said he can make his own decisions and that the Australian Government will continue to provide him consular support. Though the lack of support from the Australian Government is one of the reasons Mr Assange has chosen to seek asylum in Ecuador.
Crikey's Guy Rundle has also covered the news, explaining why it is reasonable for Mr Assange to be seeking asylum.
[UPDATE: 07:55 BST] Australian journalist Phillip Dorling reported on what would happen in the event that Julian Assange's asylum is accepted, or if it is denied:
In the event Ecuador grants Mr Assange asylum, any movement outside the Ecuadorean Embassy would be subject to negotiation and agreement between the governments of the United Kingdom and Ecuador.

Should his application be rejected, he would be most likely be arrested once he left the embassy and his extradition to Sweden would proceed.
Australian Greens Senator Scott Ludlam approached the Senate regarding WikiLeaks, Julian Assange, and whether the Australian Government would prevent attempts by the U.S. to extradite and prosecute him. Chris Evans, acting representative for Prime Minister, first answered the question with jokes about Twitter, and then gave a vague answer.
[UPDATE: 08:45 BST] Vaughan Smith tweeted a correction to BBC's quotation of him: "My BBC quote on ‪#Assange‬ asylum is wrong. A well-funded campaign to undermine him for nearly 2 years, not just a few months."