Posts Tagged 'Wikileaks/legal'
october 26, 2012 – By Brian Hauss – (Updated below)
In another round of the legal battle over the records of Twitter users sought by the government in connection with its WikiLeaks investigation, the ACLU and the Electronic Frontier Foundation (EFF) are appearing before a federal appeals court in Richmond this morning, arguing that the public has a right to know about secret court orders and other documents related to government efforts to obtain Internet users' private information without a warrant.
The ACLU and EFF represent Icelandic parliament member Birgitta Jonsdottir. She first learned about the government's efforts to obtain her information—including her mailing addresses, billing information, email addresses, credit card and bank account numbers, and IP address information (which can show physical location)—after a court order requiring Twitter to provide the information was unsealed. But when Birgitta and others targeted by the Twitter order asked U.S. District Judge Liam O'Grady to unseal and publicly list similar court orders sent to other Internet service providers, he refused their requests.
Today, we're arguing that the appeals court should open these electronic surveillance orders and related documents to the public. The excessive secrecy shrouding the court's electronic surveillance orders and dockets effectively precludes Birgitta and others from challenging the government's efforts to obtain sensitive private information, as we did with the Twitter order. Moreover, secret court orders and secret dockets deprive the public of its right to supervise the government and the courts. For these reasons, courts have long recognized both First Amendment and common law rights of public access to judicial documents like the ones at issue here.
As Aden Fine, the ACLU staff attorney who is arguing the case before a three-judge panel of the Fourth Circuit Court of Appeals this morning, puts it: Read the rest of this entry »
13 Jul 2012 | Scott Ludlam
The Australian Greens welcomed the decision by the Reykjavik District Court that credit card holders should not be prevented from donating funds to Wikileaks.
"Credit card companies here have trampled the right of Australians to donate to a legal organisation engaged in legal activities," said the Greens communications spokesperson, Senator for Western Australia Scott Ludlam.
"Both MasterCard and Visa imposed a blockade on Wikileaks on the same day – December 7th, 2010. It's arguable that this constitutes cartel-like behaviour.
"As a MasterCard holder I have questioned the legal basis upon which the company has taken this action given that Wikileaks has not been charged with any crime in any jurisdiction, yet still I am prevented from donating and my correspondence goes unanswered.
"The Icelandic court ruling against Valitor, the company that handles Visa and MasterCard payments in Iceland – where WikiLeaks is based, bodes well for the European Commission anti-trust complaint and investigation into the banking blockade of the publishing website.
"It follows that Visa and MasterCard are doing the wrong thing in Australia too. I call on the Treasurer and the Reserve Bank to prevent unnecessary court action here against this misuse of market power by acting now to reinstate the rights of Australians to donate to whom they please."
http://greensmps.org.au/content/media-releases/credit-card-corporations-blockade-wikileaks-deemed-illegal-greens-welcome-cou
by Leigh Beadon – Thu, Jul 12th 2012
It's been about a year since Wikileaks filed its complaint against Visa, Mastercard and Paypal for cutting off all payments to the site following the infamous leak of the State Department cables. Wikileaks saw this is a clear attempt to censor the site using an economic workaround, and a violation of their contract—and now at least one court has agreed. Today Wikileaks announced a significant victory in the case against Visa, with the court giving them two weeks to start processing payments again:
In a case against Valitor, formerly VISA Iceland, Reykjavík District Court just ruled the company had violated contract laws by blocking credit card donations to Wikileaks. After WikiLeaks' publications revealing U.S. war crimes and statecraft in 2010, U.S. financial institutions, including VISA, MasterCard, Bank of America, erected a banking blockade against WikiLeaks wholly outside of any judicial or administrative process. The blockade stripped away over 95% of donations from supporters of WikiLeaks, costing the organization in excess of USD 20M.
The court ruled that the donation gateway should be reopened within 14 days otherwise Valitor will be penalized with a fine of 800 000 ISK daily. WikiLeaks is persuing several actions against the blockade and a European Commission preliminary investigation into the blockade was started last July. A Commission decision on whether to pursue the financial services companies involved in the blockade is expected before the end of August.
This is a big win for Wikileaks and a bad sign for the other companies complicit in the payment blockade. Whatever you may think of Wikileaks, cutting off their access to donations at the payment-processing level is a highly questionable shortcut—and hopefully the courts recognize this in the cases against other payment providers.
http://www.techdirt.com/articles/20120712/07562019674/iceland-court-orders-visa-to-start-processing-wikileaks-payments-again-within-two-weeks.shtml
BRISBANE Australian Prime Minister confronted with Betrayal ofJulian Assange
Briz Vegas | 13.06.2012
Prime Minister confronted with Betrayal of Julian Assange to U.S. War Machine
As Prime Minister Julia Gillard arrived at the Stamford Plaza in Brisbane Tuesday night to deliver a speech at the opening dinner of the Economic Forum, she was confronted by Catholic Workers and other anti-war activists over her betrayal of Australian born citizen Julian Assange to the U.S. war machine.
Like Bradley Manning, Australian Prime Minister Gillard has Welsh roots, coming from a small village in the Vale of Glamorgan called Cwmgwrach or 'Valley of the Witch'. Her family emigrated to Australia in the sixties. The synchronicity of events was compounded by Lady Gaga also being ensconced at the Stamford Plaza on Tuesday night. The U.S. military has accused Bradley Manning of downloading secret cables including footage of U.S. war crimes in Iraq while he was pretending to listen to a Lady Gaga CD. In 2010, the then 22 year old Manning was serving as a U.S. Army intelligence analyst in Baghdad Iraq at the time of the alleged offence.
The Assange solidarity vigil in Brisbane comprised of four Catholic Workers and two doctors who support WikiLeaks. The vigil took up position at 4.30 p.m. on the footpath outside the Government Corporate LoveFest branded as an "Economic Forum". Those gathered inside included the Prime Minister, the Treasurer Wayne Swann, Reserve Bank of Australia governor Glenn Stevens, Rio Tinto managing director David Peever, GM Holden chairman Mike Devereux, QR National chief executive Lance Hockridge, and ASX chief executive Ed Funke Kuepper.
As the solidarity vigil was established with a banner reading "JUSTICE FOR JULIAN ASSANGE: Help WikiLeaks keep Governments Open", Catholic Worker Ciaron O'Reilly deployed with a portrait of Julian reading "TRUTH" to the other side of the driveway taking up position where P.M. Gillard would surely enter.
After a short time, two suited and booted members of the Public Order Squad approached Ciaron from behind calling him by name. Threatening him with arrest for failing to possess a permit related to ['to comply with' instead of related to here? Because of second 'related to' in same sentence] public indemnity laws related to an empty taxi rank, Ciaron walked away from the Plaza driveway toward the corner where the Prime Mnister's cavalcade would surely have to enter the street. Another plain clothes police officer and two uniformed officers were deployed to keep Ciaron company for the evening. Ciaron was joined by Dr. John Jiggens carrying a "Justice for Julian Assange" sign and Dr. Peter Kuestler carrying a "made for measure for the occasion & assembled" placard reading "The only Economic Question Remians Have I Taken too Much, Have I Given too Little?"
Meanwhile, at this stage, the Lady Gaga fans assembled outside the Stamford were left unharassed by the police. The good Lady herself was inside her suite recovering from a bruised and black eye sustained in a stage accident during her performance in New Zealand the previous Sunday. The injury occurred when she was whacked in the head with a pole. An experience and injury shared by some of the WikiLeaks supporters at the hands of the Queensland police on other occasions over previous decades on the streets of Brisbane.
The Prime Minister's all white wedding-like cavalcade of sedans and four wheel drives turned into the street at 6.30 pm. As the great and the good unloaded from the now gridlocked vehicles Ciaron, the doctors and their uniformed and plainclothes police tails moved into driveway. Ciaron berated his captive audience with the crime of Julia delivering Julian to the U.S. war machine, the continued deployment of cannon fodder from Brisbane's Gallipoli Barracks to kill and die in a lost U.S. war in Afghanistan that her government can't defend or rationalise. Ciaron shared the saying "truth is the first casualty of war", appealed "Don't be scared of the truth" and delivered the scriptual promise "the truth will set you free, Julia" Read the rest of this entry »
Broadcast: Tuesday 12 June 2012 10:20PM (view full episode)
The Bradley Manning hearing is the start of what is being called 'one of the most significant cases in US history'. Manning allegedly gave more than 700,000 documents and video clips to the WikiLeaks website. He faces 22 charges, including the capital offense of aiding the enemy. So how will the proceedings affect the Julian Assange case? Human rights lawyer Jennifer Robinson attended the Bradley Manning proceedings as a member of the Julian Assange and WikiLeaks legal team.
Wednesday, June 6, 2012
"Let me tell you who got David Hicks released," said my local MP, Steve Ciobo, as he addressed a handful of protesters last night outside his electoral office, just a short walk from Surfers Paradise on Australia's sunny Gold Coast.
"It was John Howard."
We laughed at the very idea. Former Australian Prime Minister John Howard happily left David Hicks to rot in Guantanamo Bay for over six years, and only negotiated an appalling deal for his release (Hicks had to plead guilty to bogus charges and promise not to contact the media with allegations of torture) because protesters just like us had campaigned vigorously for his release. But the former member of the Australian Liberal Party's Shadow Ministry appeared to be serious.
"I was there in the room!" insisted Mr Ciobo. This set the absurd tone for our discussion.
We were not there to talk about David Hicks. We were there, outside his office, holding a vigil in support of
Bradley Manning
, the young US soldier facing a Court Martial and possible death penalty for allegedly leaking secret US government files to WikiLeaks. We were there also in support of Julian Assange, the Australian founder and editor-in-chief of WikiLeaks, on whose behalf
not a single member
of the Australian parliamentary Coalition has spoken up. We asked Mr Ciobo to explain his party's silence on the matter.
Mr Ciobo said that in his own opinion, most Coalition MPs had a negative view of WikiLeaks, and probably thought Julian Assange was getting what he deserved. But in his own opinion, he confided, Julian was not all that bad.
We asked if Mr Ciobo knew the facts surrounding Julian Assange's extradition to Sweden, and he admitted that he didn't. He didn't think many others in his party knew much either, aside from Shadow Minister for Foreign Affairs Julie Bishop.
"Our view is that it's a government problem," he said.
It's difficult to have a meaningful debate with someone who doesn't know the facts, but it's totally unacceptable that a federally elected representative of the Australian public tolerates the witch-hunting of an innocent Australian citizen with so little basic curiosity.
We urged him to learn the facts, and he promised that he would read the material I had sent him previously (and have emailed him again) including Christine Assange's Talking Points.
We asked if he knew who Bradley Manning was. Mr Ciobo said he hadn't known who Manning was until we turned up in front of his office that day with a big sign. But he HAD heard about our little demonstration.
"I saw it on Twitter," he explained.
That was odd. There were only five of us at the demonstration, aside from my wife and kids (who dropped by to say hello). And as far as I can see, @SteveCiobo doesn't seem to follow any of us on Twitter. Perhaps Steve got some assistance from our ASIO friends (Ciobo apparently wanted to be an ASIO agent when he entered university).
Mr Ciobo mentioned that he was a trained lawyer. We asked how he felt about an Australian citizen being held under house arrest for over 500 days without charge. He shrugged it off.
"My opinion doesn't matter," he explained. What mattered, he said, was that the laws of other nations had to be respected and follow due course. We pointed out that this is not happening, and he again promised to inform himself.
We talked about the Collateral Murder video. Mr Ciobo explained that the USA had a more cavalier attitude to laws like the Geneva Convention than Australia, and their military's behaviour in places like Iraq and Afghanistan should not to be compared with our brave Diggers. Nevertheless, he insisted, we had to respect US interpretations of law. We pointed out that such respect is difficult when President Obama refuses to even declassify those interpretations. Read the rest of this entry »
Bradley Manning trial: US government ordered to release WikiLeaks damage assessments
The US government has been ordered to release its assessments on how much damage WikiLeaks' publication of secret files caused to US interests, after lawyers for Pfc Bradley Manning argued they were essential to his defence.
By Raf Sanchez, Fort Meade, Maryland – 24 Apr 2012
The 24-year-old soldier is accused of smuggling thousands of classified military and diplomatic files to the whistle-blowing website.
WikiLeaks began publishing the files last year, leaving the US government scrambling to figure out whether the leaks could harm American national security.
Task forces from across the government – including the State Department, the CIA and the Pentagon – were formed to assess the damage and report back to the White House and other agencies.
Colonel Denise Lind, the military judge presiding over Pfc Manning's court-martial, ruled on Tuesday that the task forces' reports could be "materially relevant" to his case and ordered the government to hand them over to the court.
The assessments will be reviewed in a secret hearing by the judge but could then be included as evidence in the eventual trial stage. The State Department has already said it will fight to keep the documents secret and the CIA and Pentagon are expected follow suit.
Pfc. Manning faces charges over his alleged role in stealing more than half a million secret documents from a secure military network and passing them to Julian Assange, the founder of WikiLeaks. Among the most serious charges is one count of aiding the enemy, a crime that can lead to life imprisonment.
David Coombes, Pfc. Manning's civilian defence lawyer, said prosecutors must prove that the leaks actually "caused harm" if they are to convict his client. While the government assessments remain classified, Mr Coombes cited media reports from last year where anonymous US authorities privately admitted that the WikiLeaks revelations had caused only "pockets" of short-term damage.
The reports directly contradicted the Obama administration's official position that the leaks had caused "substantial" damage and endangered the lives of American informants around the world.
In a densely legalistic hearing at the sprawling Fort Meade military complex in Maryland, Pfc. Manning's lawyers also demanded that government release video footage reportedly showing the soldier stripped naked and interrogated by Army authorities. Read the rest of this entry »
FORT MEADE, Maryland (AP) – A military judge refused on Wednesday to throw out the case against an Army private accused of providing reams of sensitive documents to Wikileaks in the biggest leak of government secrets in U.S. history.
Army Col. Denise Lind said she will rule Thursday on whether to dismiss any of the individual charges against Pfc. Bradley Manning, including the most serious count of aiding the enemy — which carries a maximum penalty of life in prison. Prosecutors argue that the leak helped al-Qaida and that Manning knew its members regularly viewed the anti-secrecy website.
Manning hasn't entered a plea to the charges. He also hasn't yet decided whether he will be tried by a judge or a jury. Lind scheduled Manning's trial for Sept. 21 through Oct. 12.
He is accused of sending hundreds of thousands of classified documents to WilkiLeaks, a website founded by Julian Assange, in late 2009 and early 2010. Read the rest of this entry »
David Coombs says prosecutors have withheld key documents in case over the leak of secret state documents to WikiLeaks
Ed Pilkington in New York – Tuesday 24 April 2012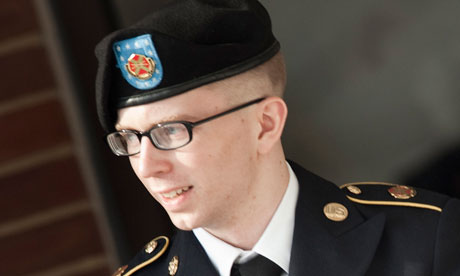 Bradley Manning, the US soldier accused of leaking hundreds of thousands of secret state documents to WikiLeaks, will face his military detractors again this morning at the start of up to three more days of procedural hearings ahead of a full court martial.
Manning's lawyer, David Coombs, has filed several defence motions with the military court in Fort Meade, Maryland, that call for all 22 charges against his client to be dismissed on grounds that the prosecution has mishandled the case. The lawyer will argue that the proceedings have been beset by delays and by refusal to hand over key documents during the discovery process, which he will say is a violation of the military rule book for court martials.
The hearing in Fort Meade is the third time Manning has been seen in public since his arrest on 25 May 2010 at the Forward Operating Base Hammer outside Baghdad. He was working as an intelligence analyst there, and has been charged with downloading and transmitting to the whistleblower website WikiLeaks a huge trove of US state secrets including confidential cables from embassies around the world.
In his filings, Coombs is scathing about the way the military authorities have gone about the pre-trial preparations. He talks about what he calls the "government's ritual incantations" and says that it has taken two years since the case began for the defence to be handed just 12 pages of discovery materials.
Those materials, he writes, "are dated as of November 2010. Why is the defence receiving these in April 2012, a year and five months after they were prepared?" Read the rest of this entry »