By James Ball ,
Whistleblowing website's backers look to break 'bank blockade' 500 days after Visa, MasterCard and PayPal blocked donations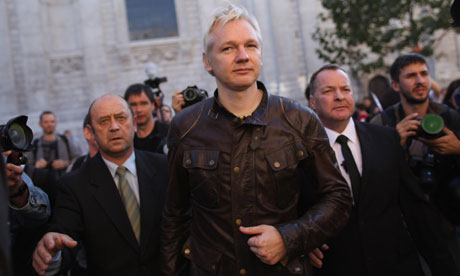 Julian Assange's WikiLeaks website lost 95% of its donation income when credit card companies and PayPal refused to send it funds.
High-profile US supporters of WikiLeaks are planning to establish a foundation to break the 500-day "banking blockade" that has disrupted donations to the whistleblowing website.
WikiLeaks was forced to suspend many of its publishing operations in October last year after Visa, MasterCard and PayPal refused to process supporters' donations to the website, reducing its donation income by about 95%.
The move, which came after the US senator Joe Lieberman called on US companies to cut off services to WikiLeaks, was called a blockade by the organisation's editor-in-chief, Julian Assange, and came without any legal orders or actions against the site.
Supporters based in the US are now in talks with Assange to establish a US-based foundation aimed at funding organisations cut off by private companies in situations with first amendment implications.
At the forefront of the efforts are Daniel Ellsberg, the man who leaked the Pentagon Papers to the US media, and John Perry Barlow, the former lyricist for the Grateful Dead and co-founder of the US online rights organisation Electronic Frontier Foundation (EFF).
Barlow said: "The foundation will aim to support WikiLeaks and others, like bloggers, who have been targeted by such blockades. We hope this will make a moral argument that will change these companies' minds, but it could also be the basis of legal challenges."
A US-based foundation would be in a stronger position to make challenges based around the US first amendment – which covers, among other provisions, freedom of speech and freedom of the press – than WikiLeaks' current major funder, the Wau Holland Foundation, which is based in Germany.
Barlow also warned about the growing power of private organisations in the internet era, saying that protections which restricted governments often did not cover private-sector censorship. Continue reading →