Posts Tagged 'fair trials'
December 7th 2012 marks the 2nd anniversary of Julian Assange's confinement without charge. We were looking for a place to screen "Collateral Murder", the Wikileaks film that revealed civilians being massacred by an Apache helicopter.
The Crown, the Roo and the Big Guns, a metaphor for the Coalition of the Willing.
We overlay on that union the WikiLeaks film 'Collateral Murder'; in hope that the voices of the unwilling may be heard. In memory of the countless civilians who also die in war; may they rest in peace.
our soldiers don't sacrifice for duty, honour, country
they sacrifice for Kellogg, Brown and Root
they're not defending our freedoms
they're laying the foundation for fourteen permanent military bases
to defend the freedoms of Exxon Mobile and British Petroleum
they're not establishing a democracy
they're establishing the basis for an economic occupation
to continue after the military occupation has ended
Dahlia Wasfi on the War in Iraq
Our servicemen and women, like Bradley Manning, may not have suspected they could be party to war crimes when enlisting. Openness and truth is vital in making informed choices. No Government should put a soldier's life in danger for a lie. No civilian's life is expendable or collateral damage.
"If wars can be started by lies, peace can be started by truth."
Julian Assange, Editor-in-Chief, Wikileaks
Read the rest of this entry »
Wednesday, Nov 28, 2012 7:30 PM UTC – By Natasha Lennard
UPDATED: Civil liberties advocates have rallied behind Jeremy Hammond who was denied bail and faces life in prison VIDEO
Jeremy Hammond (Credit: Jim Newberry)
UPDATE Dec. 3rd: Jeremy Hammond's lawyers plan to file a motion this week for Judge Preska's recusal. Sparrow Media reported that Preska was made aware of the published connection between her husband and Stratfor and that her husband's Stratfor-related information was published by Wikileaks, but "Preska indicated that this personal connection to the Hammond case 'would not effect her ability to be impartial'." A video from last week's press conference featuring journalists, attorneys and civil liberties advocates is posted below.
Nov. 28th: Hacktivist Jeremy Hammond was told last week by federal judge Loretta Preska that he was being denied bail and could face life in jail for his alleged involvement with the Anonymous/LulzSec hack into the computers of the private intelligence firm Stratfor.
Civil liberties advocates have decried the state's harsh treatment of the activist, who was reportedly held in solitary confinement for five days in Manhattan's Metropolitan Correctional Center and has so far been imprisoned for eight months without trial. Now, Hammond's supporters believe they have an extra and important string to their bow: a release from Anonymous reported that the federal judge who denied Hammond bail is married to a client of Stratfor and was personally affected by the infamous hack.
"Judge Loretta Preska's impartiality is compromised by her husband's involvement with Stratfor and a clear prejudice against Hammond exists, as evidenced by her statements … Without justice being freely, fully and impartially administered, neither our persons, nor our rights nor our property, can be protected," the Anonymous release noted.
The criminal complaint against Hammond alleges that the Statfor hack exposed the private information of 860,000 Stratfor clients, as well as 5 million emails, which WikiLeaks has been publishing in batches. "Some of this data released belongs specifically to Judge Preska's husband," stated a release from Sparrow Media, which is helping to organize a press conference in New York Thursday during which activists and attorneys, including National Lawyers Guild New York president Gideon Oliver, will brief the media on their call for Judge Preska to immediately recuse herself for failure to disclose this conflict of interest. Read the rest of this entry »
01/aug/2012 by RussiaToday
–

Swedish authorities have declined Ecuador's invitation to question Julian Assange in its London embassy – without any meaningful explanation, according to Wikileaks' twitter feed. The whistleblower has been holed-up in the Latin American country's diplomatic mission for over six weeks now, seeking asylum. Assange is wanted in Sweden for questioning over sex crime allegations which he denies. He believes proceedings may be just a pretext to hand him over to the US – where he fears prosecution on espionage charges for a massive leak of secret diplomatic and military files. Anti-war activist and journalist Don DeBar says Washington is on an all-out hunt for Assange, and is willing to sidestep international law to get him.
RT LIVE http://rt.com/on-air
Thursday, July 12, 2012
El Telégrafo: "Bradley Manning case used by U.S. to put Assange on trial for espionage"
"With the aim of preparing the trial against the founder of WikiLeaks, in charges of espionage, Washington has kept Bradley Manning in prison for two years. He was locked in a windowless cell in solitary confinement, and forced to sleep naked to prevent him of committing suicide."
And has a casual conversation.
ALMEDALEN (Rixstep) — Sweden's political elite are spending the week in the city of Visby on the island of Gotland to (of course) talk politics. This is a tradition begun by the assassinated Swedish prime minister Olof Palme nearly fifty years ago. Today's it's become more partying than politics but Julian Assange's legal adviser Jennifer Robinson is there along with Kristinn Hrafnsson as guests of the 'FuturePerfect' group and they were invited to speak to the crowds.
By pure coincidence, Jennifer spotted Sweden's minister for foreign affairs Carl Bildt afterwards and decided to confront him in the interests of her client.
'I went up to him and introduced myself. We talked for a good ten minutes. It was a very friendly conversation', said Jennifer afterwards.
No Guarantees, No Nothing
As Julian Assange's current predicament hinges on the demonstrative eagerness of small dog Sweden to accede to the wishes of big dog US and send him through a revolving door and over the pond if ever he should arrive – and as a lower level clerk already stated nothing could be done to untangle the situation – Jennifer chose to put it to the nobleman point blank.
'I asked him to guarantee that Assange wouldn't be rendered to the US if he came to Sweden, and Carl Bildt said that they couldn't give us that guarantee, that it's a judicial process. I told him that at the end of the day it's a political decision by the government.'
Jennifer also asked Bildt why no one's traveled to the UK to interrogate Julian Assange or carried out an interrogation by telephone as ordained by the EU agreement on Mutual Legal Assistance in the near two years Assange has been wearing that ankle bracelet.
'He told me it's not allowed. And when I pointed out that Sweden had only recently done just that in a murder investigation in Serbia, he had no reply.'
But that's coincidentally the same thing Marianne Ny told Time and a number of Swedish news organisations two years ago.
And when she realised what a stir she'd caused, all the original stories (at least in the Swedish media) were made to mysteriously 'disappear' much like her chronology of events in September and October 2010 at her website.
Mutual Legal Assistance
There is of course no reason Marianne Ny or someone else couldn't have interrogated Julian Assange by now. By now it's more than apparent that this case isn't about broken condoms anyway. There isn't even a hidden clause in the MLA agreement to back Bildt and Ny up. They simply refuse to interrogate Assange and explain why – and EU jurisprudence be damned.
Perhaps the most comical part of Jen-Rob's interchange with Bildt was when he told her no one is above the law in Sweden. Coming from the likes of Carl Bildt what with his history of hanging out with the US Strategic Air Command, flying 'Top Gun' F-14s, taking government documents to his friends in Langley, and above all his involvement in the genocides in Africa during his time with the Lundin's, that's quite the statement. Read the rest of this entry »
By William Blum – 03 July, 2012
I'm sure most Americans are mighty proud of the fact that Julian Assange is so frightened of falling into the custody of the United States that he had to seek sanctuary in the embassy of Ecuador, a tiny and poor Third World country, without any way of knowing how it would turn out. He might be forced to be there for years. "That'll teach him to mess with the most powerful country in the world! All you other terrorists and anti-Americans out there — Take Note! When you grmmmph! around with God's country you pay a price!"
How true. You do pay a price. Ask the people of Cuba, Vietnam, Chile, Yugoslavia, Iraq, Iran, Haiti, etc., etc., etc. And ask the people of Guantánamo, Diego Garcia, Bagram, and a dozen other torture centers to which God's country offers free transportation.
You think with the whole world watching, the United States would not be so obvious as to torture Assange if they got hold of him? Ask Bradley Manning. At a bare minimum, prolonged solitary confinement is torture. Before too long the world may ban it. Not that that would keep God's country and other police states from using it.
You think with the whole world watching, the United States would not be so obvious as to target Assange with a drone? They've done it with American citizens. Assange is a mere Aussie. Read the rest of this entry »
  I have enough experience of the Swedish legal system to know its poor treatment of suspects marks them out as guilty

Per Samuelson
guardian.co.uk,
–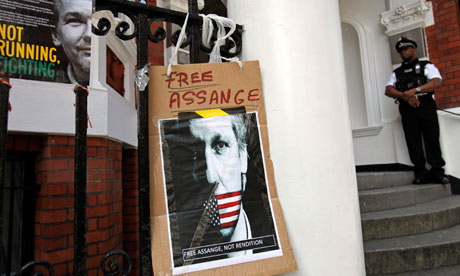 The Julian Assange case has sparked international criticism of the Swedish legal system. Many Swedish citizens view this criticism as an attack on their country, and rally to the defence of their legal system. But it is about time that someone with experience of Swedish procedural law tells it like it is: Sweden routinely imposes severe restrictions on suspects held on remand. Pre-trial, suspects are often held in detention, or even in isolation. This treatment is unnecessary and humiliating and thwarts the defendant's ability to prepare their case.
Detaining and isolating a suspect is appropriate where the crime is sufficiently grave and the indication of guilt clear. Treating Anders Breivik in this way is the right thing to do, for instance. Read the rest of this entry »
By Richard Phillips  – 25 June 2012
Christine Assange, the mother of WikiLeaks' founder Julian Assange, spoke with the World Socialist Web Site yesterday about the escalating legal conspiracy against her son and his recent application for political asylum in Ecuador. She explained the dangers now facing her son in the face of the US-led campaign, which is being assisted by the Australian Labor government, to frame up Assange. If Assange is extradited to Sweden on dubious sexual assault allegations, he faces the real possibility that he will be transferred to America and brought before a US Grand Jury on bogus espionage charges.
Richard Phillips: The UK's Supreme Court rejected Julian's legal bid to reopen his final appeal against extradition to Sweden. Were you surprised at the decision?
Christine Assange: No, I had been expecting it. The whole proceedings in Britain indicated that the Supreme Court was not going to challenge the European Arrest Warrant, even though it knew that the British people have been lobbying for it to be changed for years.
The extradition warrant should have been rejected on the grounds that it was being used for questioning. The Swedish prosecutor had refused to interview Julian when he was there [in Sweden] and refused to interview him via Mutual Legal Assistance. That is the stated way [under the European Arrest Warrant Framework Decision] that people can be interviewed in another country. The UK and Sweden are signatories to this agreement.
The British government is completely happy with the whole process. It has executive powers allowing it to intervene, overrule the courts and reject an extradition but it has refused. The British government did that a few years ago when it came to the [extradition of] Chilean dictator Pinochet. In other words, the British government over-ruled the extradition of a dictator, but supports the extradition of someone who has exposed the crimes of the US, British and other governments. Read the rest of this entry »
By Naomi Spencer – 11 June 2012
A military judge rejected on June 8 a motion by the defense team of Army Private Bradley Manning calling for the dropping of some charges against the accused whistleblower. The judge also ordered further pre-trial hearings later this month. The military is pushing the full court martial trial from September back to November or even next January.
The 24-year-old soldier has already been held for more than two years, without being convicted of a crime, on charges under the Espionage Act that carry a maximum sentence of death. He was arrested May 26, 2010, while working as an intelligence analyst in Baghdad. Manning is accused of leaking hundreds of thousands of files to WikiLeaks, including evidence of US war crimes committed in Iraq. Read the rest of this entry »
June 7, 2012 by 1 Crown Office Row
In last week's judgment in Assange v The Swedish Prosecution Authority [2012] UKSC 22, the Supreme Court decided that the words 'judicial authority' in s 2(2) of the Extradition Act 2003 include prosecutors as well as courts. This was because the European Arrest Warrant (EAW) Framework Decision, to which the Part 1 of 2003 Act gave effect, uses the expression in that broad sense, and the presumption is that Parliament meant the same thing (summary here).
The EAW Framework Decision has always guided the interpretation of the Part 1 of the 2003 Act. Until Assange, there were two different reasons for this: (i) a domestic rule of statutory interpretation; and (ii) the rule expounded by the Court of Justice of the EU in Case C-105/03 Criminal proceedings against Maria Pupino.
Under the domestic rule, when Parliament legislates to give effect to an international law obligation it is presumed to do so in full. So the courts assume that Parliament did not intend Part 1 of the 2003 Act to be inconsistent with the Framework Decision and that it intended to provide the level of cooperation the Decision required (Cando Armas [2005] UKHL 67, at [8], per Lord Bingham). Read the rest of this entry »