Posts Tagged 'David Leigh'
Mark Lee Hunter, 23 March 2012
Julian Assange has been a remarkable source for mainstream media. So why has he been so ill-treated in return? There are many accusations levelled at him and his organisation, and whatever their bases, none of them justifies the reactions. And this hurts journalism as a whole.
Over the past several months leading figures of the news industry have lined up at journalism conferences and in the MSM ("mainstream media") to hammer Julian Assange's reputation.  Astonishingly, the people bashing the founder of Wikileaks are the same people who relentlessly pursued and used him as a source.  Protecting the source is what reporters in general and investigative reporters in particular are supposed to do, but a glaring exception is being made for Assange.
It's been happening at least since October, when David Leigh ↑ and Heather Brooke ↑ , both of The Guardian and authors of recent books about Wikileaks, took the stage at the Global Investigative Journalism Congress in Kiev to denounce Assange's alleged treachery and lechery.  They did the same again in Paris at UNESCO in February.  On both occasions no representatives of Assange's organization were asked to speak; so much for open debate. The details deserve to be outed.
Leigh has repeatedly complained that Assange makes deals, then breaks them.  As Leigh and Ian Harding recount in Wikileaks: Inside Julian Assange's War on Secrecy, Assange first annulled his exclusive deal to publish Wikileaks' archives with The New York Times, Der Spiegel and The Guardian (he brought in two other dailies) after the Times ran a front-page piece that portrayed him as a megalomaniac.  True or not, try to think of another source whom The Times exposed like this, facing the dangers Assange faces.  A source needn't be crazy to wonder whose side such partners are on and start looking for a Plan B. (Which he found, as we'll see later.)
Leigh has also blamed Assange for the release of hundreds of thousands of raw documents that can put individuals who work with the US government in danger.  What happened, according to Leigh in Kiev, is this: Assange gave him a cryptographic key allowing temporary online access to a server where the documents were stored.  Leigh assumed that the key had expired when he and Harding wrote their book, and they published it down to the last letter.  The server was immediately cracked and the documents spilled out.  Leigh claims that Assange had not warned him that the key still worked.  Publishing it was still a grave mistake in more ways than one.  By blaming Assange, Leigh cannot help but raise the risks for him.  According to Wikileaks, the Stratfor emails hacked by Anonymous indicate that a sealed indictment has already been issued on Assange, and that the US might "declassify the death of a source" that could be tagged to Wikileaks. Read the rest of this entry »
Here's a truly dire editorial on WikiLeaks and its founder by journalist Nick Cohen. It seems journalistic condemnation isn't quite what it used to be: note that no sources are quoted, no new information provided – unsubstantiated, outlandish and unoriginal accusations pervade, and the insensitivity of the phrasing used (e.g: "squealers" as opposed to "whistleblowers") is atrocious. And it's all in the name of the protection of the bubble of groupthink which has grown around The Guardian's staff over the last few months. Sickening.
http://www.guardian.co.uk/commentisfree/2011/sep/18/julian-assange-wikileaks-nick-cohen
In 2010, WikiLeaks was a journalistic dream; releaser of torrents of classified information – much of it newsworthy – with an intriguing backstory and publicly polarising philosophy. When it called for partners in the media to publicise its material, then, it was lapped up by publications all across the globe, most notably Britain's The Guardian, Germany's Der Spiegel, America's New York Times and Spain's El Pais.
Every party involved had something invaluable to gain from the ensuing partnerships: WikiLeaks found a platform through which to inform the world of its material (which had previously been ignored by a majority of publications and peoples alike), and its various media partners found their sales figures rising significantly. The Guardian in particular had been enduring a "30 year slump" in sales before its partnership with WikiLeaks, but was seen to recover shortly after the organisation's leaking of the Afghan War Logs (albeit temporarily).
So a journalistic honeymoon ensued. Publication and organisation proudly endorsed each other, both satisfied that they were gleaning all that they wanted from the relationship. Just as The Guardian splashed news of WikiLeaks over its front page, Julian Assange could often be seen with a copy of the newspaper tucked approvingly under his arm, or in his hands as he explained the importance of WikiLeaks' releases. Superficially, all was well within this working relationship – and for eight long months this remained the case.
Then, suddenly, the scales began to tip.
The Guardian, now sufficiently strongly associated with WikiLeaks to gain access to deeply sensitive, private information relating thereto, began to regard its privileged position as an opportunity for monetary gain, even more so than it had before. A couple of its more – shall we say – ambitious journalists began working on a book, Inside Julian Assange's War on Secrecy, which, when published, would result in Julian Assange himself threatening to sue the newspaper for libel, and WikiLeaks' and the Guardian's relationship terminating spectacularly.
The book is riddled with accusations; some against Assange personally, many more against his organisation's handling of the information it assimilates and leaks. Some of these were taken so seriously by WikiLeaks that they've had to be publicly denied – most notably the claim that Assange can be quoted as saying: "If [informants] get killed they've got it coming to them", an accusation Mr. Assange strongly denies. Recently, the "58-character password" so proudly displayed at the beginning of the book's 11th chapter was found to be the key to a Bit Torrent download of hundreds of thousands of unredacted diplomatic cables, prompting accusations of negligence aimed primarily at Guardian journalist David Leigh. All in all, the book has led to criticism and ostracism of those who wrote and endorsed it – plus, ironically, despite all the newspaper's efforts sales for the Guardian are currently at an all time low.
And yet, unsuccessful as it has been, Inside Julian Assange's War on Secrecy has become the first in a seemingly endless stream of attempts by writers from all around the world to cash in on the WikiLeaks story. One by one, every Tom, Dick and Harry with Microsoft Word and some kind of connection (tenuous as it may be) with WikiLeaks and / or its founder has wriggled out of the woodwork to share his story with the world, whether or not the world wishes to hear it. To my knowledge, all but one of these books (the exception being Der Speigel's Staatfeind WikiLeaks) have been criticised tremendously by their non-fictional characters, and yet still the onslaught of nigh-on-identical WikiLeaks-related accounts continues.
Perhaps most offensively, very few of their writers endeavour to show WikiLeaks in a positive light; Daniel Domscheit-berg's Inside WikiLeaks and Heather Brooke's The Revolution Will be Digitalised both chart their authors' gradual disenchantment with the very organisation they have chosen to monetarily exploit. Heather Brooke, an investigative journalist once involved with the exposure of British MPs' business expenses, sold her story to The Daily Mail, an exceptionally lowbrow and right-wing British newspaper, under the tabloid headline "WikiFreak". Her "story" itself, based around a few encounters she had with Julian Assange, sets out to portray him as a "predatory, narcissistic fantasist" – but Ms. Brooke's decision to force her irrelevant and unoriginal account down the country's most right-wing of throats, attacking a man she clearly was once quite close to for the sake of monetary gain, brings to mind imagery of the pot calling the kettle black.
The Daily Mail, which lapped up the story like a buffalo at a watering hole, joins the ranks of many – if not most – other mainstream newspapers, all of which frequently and intentionally endeavour to show WikiLeaks in a negative light. When WikiLeaks decided to release its full 251,000 unredacted cables after the passkey was leaked by The Guardian, the newspaper and WikiLeaks' other media partners (The New York Times; Der Spiegel; El Pais; Le Monde) released a joint statement condemning the decision – whimpering how they feared for the ramifications, etc – even though one of their number, and its negligence, was clearly a main contributing factor towards the release. And, of course, there is the Evening Standard's bold declaration that "WikiLeaks is Now the Foe of Free Speech", the article that follows it conveniently failing to mention The Guardian's publishing mishap and therefore unfairly depicting WikiLeaks in a far worse light than is appropriate. That headline is quite eye-catching, though, to an unthinking, impulsive public…
It is true that WikiLeaks has received phenomenal publicity thanks to the press – that the extensive coverage by the media of the organisation's findings has been invaluable during the last year, helping WikiLeaks to attain a following larger than would otherwise have been achievable.
However, the motives behind this coverage, so loyal it would pass as a glue substitute, are painfully obvious. If not through the coverage itself, but through the stream of selfish attempts to cash in on the story by journalists and writers all across the globe, it becomes obvious that the old (unrealistic?) values of the press (write because the story needs to be told, not because we can make money off it) have faded. That the press thinks it necessary to establish a "quid pro quo" relationship with Wikileaks (i.e: we'll publish your work – which we should be publishing anyway – in exchange for the ability to monetarily exploit you using negative cohesion) is deplorable, and speaks volumes of the attitude of international media over the last couple of decades. Of a deep-rooted, almost visceral desire to make money that seems to pervade in the mainstream press.
As images of the News of the World's latterly posthumous phone hacking scandal flash before our eyes, they pair off quite neatly with the press' insensitive and unsympathetic handling of the WikiLeaks saga, cementing the concept of a breed of journalism which puts its own needs before those of its sources. A breed of journalism which is thriving in our materialistic, greed-dominated world – a world WikiLeaks itself is attempting to expose.
The journalists of The Guardian abused their relationship with WikiLeaks for the sake of monetary gain. The News of the World, it seems, acted similarly, and yet the story of Rebekah Brooks and Sara Payne is viewed with repulsion by the world's press. The same self-righteous press that has unwaveringly followed the Guardian's lead in ostracism and derision of WikiLeaks.
BERLIN (AP) — Wikileaks founder Julian Assange blasted the Guardian on Tuesday, saying the British paper's "negligence" in publishing an encryption key to uncensored files forced his organization's hand in publishing the secret U.S. diplomatic memos.
It was Assange's first public comments since Wikileaks disclosed its entire archive of U.S. State Department cables last week. The United States has fiercely criticized the move, saying it could endanger the lives of the sources named in the cables, including opposition figures or human rights advocates. Read the rest of this entry »
In Cryptography on September 3, 2011 by Matt Giuca
The news broke yesterday that the entire trove of diplomatic cables held by WikiLeaks is now public and unredacted, due to a bizarre cryptographic mixup between WikiLeaks and the Guardian. WikiLeaks broke the story, after keeping quiet about it for months (I think people outside of the organisation had started to put the pieces together), accusing the Guardian, a UK newspaper, of publishing a book that negligently divulged the password to the encrypted file. The Guardian fired back, claiming that WikiLeaks said the password was temporary and that it's their fault for making the encrypted data available. I don't want to go into the politics here — this is a technical blog. I have already seen a lot of confusion online, both in the media and in the more technically literate (such as on Slashdot). I want to put together this FAQ to answer some of the common criticisms. Here I will try to remain politically impartial, and answer these questions from a cryptography standpoint. I'm not a qualified cryptographer (I don't know where to begin a cryptanalysis of AES), but I do have a detailed understanding of the technology involved here. I would appreciate any corrections you might have in the comments section.
I am not affiliated with WikiLeaks. I am piecing together this information from various sources, but as you shall see, the facts are really not in question here (at least, everything relevant to a cryptographic discussion of the situation) — what is in question is who is at fault, and cryptography can tell us that.
The bottom line is, as I wrote yesterday, that cryptographically, WikiLeaks is in the right and Guardian is in the wrong. From what I can gather, WikiLeaks followed reasonable security expectations, and Guardian broke them. I would encourage anyone who places the blame on WikiLeaks to read this FAQ in detail (or at least skim through for any questions you may have). Read the rest of this entry »
by Glenn Greenwald
A series of unintentional though negligent acts by multiple parties — WikiLeaks, The Guardian's investigative reporter David Leigh, and Open Leaks' Daniel Domscheit-Berg — has resulted in the publication of all 251,287 diplomatic cables, in unredacted form, leaked last year to WikiLeaks (allegedly by Bradley Manning).  Der Spiegel (in English) has the best and most comprehensive step-by-step account of how this occurred.
This incident is unfortunate in the extreme for multiple reasons: it's possible that diplomatic sources identified in the cables (including whistleblowers and human rights activists) will be harmed; this will be used by enemies of transparency and WikiLeaks to disparage both and even fuel efforts to prosecute the group; it implicates a newspaper, The Guardian, that generally produces very good and responsible journalism; it likely increases political pressure to impose more severe punishment on Bradley Manning if he's found guilty of having leaked these cables; and it will completely obscure the already-ignored, important revelations of serious wrongdoing from these documents.  It's a disaster from every angle.  But as usual with any controversy involving WikiLeaks, there are numerous important points being willfully distorted that need clarification. Read the rest of this entry »
Nigel Parry, Wednesday, August 31st, 2011
The UK's Guardian newspaper's Investigative Editor, David Leigh, author of the "Get this Wikileaks book out the door quickly before other Wikileaks books are published" Wikileaks book has messed up.
And when I say "messed up", I mean that Mr. Leigh let slip the top secret password revealing the names of U.S. collaborators around the world—information now freely available to all the enemies of the U.S.
And when I say "let slip", I mean that David Leigh published the password as a chapter heading in his book, "WIKILEAKS: Inside Julian Assange's War on Secrecy":
Dum dum-de dum dum dum dum dum.
The full, unredacted set of WikiLeaks cables is now available online and in readable form, courtesy of a three-way clash of egos between Julian Assange, disgruntled ex-WikiLeaks volunteer Daniel Domscheit-Berg and the Guardian's senior journalists.
The release places in potentially grave danger US diplomatic sources whose names have been removed from the publicly released cables.
How? A document containing the full set of over a quarter of a million cables was placed online in encrypted form late last year. In what circumstances is unclear — according to different sources, it was done either by Julian Assange himself or, it now seems more likely, posted unwittingly by a WikiLeaks supporter, after material taken by Domscheit-Berg was returned to WikiLeaks. By that time, full unencrypted sets of the cables had already been passed by WikiLeaks to the The Guardian, which passed them to The New York Times against Assange's wishes.
In any event, the online material at that point was unreadable without a password.
The problem was, the password was made available, by none other than The Guardian's David Leigh, in his book released in February this year co-written with Luke Harding, WikiLeaks: Inside Julian Assange's War on Secrecy. An extract from the book, which was published after the encrypted material had gone online:
Eventually, Assange capitulated. Late at night, after a two-hour debate, he started the process on one of his little netbooks that would enable Leigh to download the entire tranche of cables. The Guardian journalist had to set up the PGP encryption system on his laptop at home across the other side of London. Then he could feed in a password. Assange wrote down on a scrap of paper:

CollectionOfHistorySince_1966_ToThe_PresentDay#

"That's the password," he said. "But you have to add one extra word when you type it in. You have to put in the word 'Diplomatic' before the word 'History'  Can you remember that?" "I can remember that." Leigh set off home, and successfully installed the PGP software.
Leigh thus, as part of his effort to cash in on his once-intense but by then-soured relationship with Assange, had revealed the key to decrypting the entire set of cables that had been available online.
Nei giorni scorsi Wilkileaks era stata accusata di aver diffuso molti degli ormai famosi cable diplomatici dalle ambasciate statunitensi, senza editare i dati sensibili in grado di mettere in pericolo le persone che indicavano.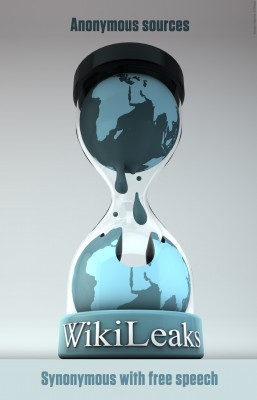 Nella diffusione dei cable Wikileaks ha adottato una politica per la quale affida blocchi di cable selezionati per proveninenza ai media dei paesi di riferimento, i quali s'impegnano ad editare questi dati e a pubblicare una versione depurata dei cable, che poi è la stessa che viene messa online sul sito di Wikileaks a disposizione di tutti.
Negli ultimi tempi Wikileaks ha scoperto che la password supersegreta per visiluazzare i cable stava circolando sottobanco, un cittadino tedesco è stato addirittura colto mentre cercava di venderla su internet. Altre fonti hanno segnalato la circolazione in rete di cable non editati, segno sicuro di una falla nel sistema.
Secondo Wikileaks la fonte di questa falla nel sistema di sicurezza di Wikileaks sarebbe nientemeno che The Guardian. In particolare si è scoperto che la password è stata pubblicata nel libro Julian Assange's War on Secrecy, di David Leigh e Luke Harding, giornalisti investigativi di The Guardian. Read the rest of this entry »